Detailed Bed Size Comparison
The main difference between the dimensions of a queen and king size Bed is in width. Both the bed are 80 inches long, but the king is 16 inches wider than the queen. A king size Bed (also known as the eastern king size) is recommended for couples who prefer more space. However, other considerations can affect your decision when choosing between king vs queen bed sizes.
Before we go into the details, let's understand the difference between a king size and queen size bed.
Parameters
King Size Bed
Queen Size Bed
Size

| | |
| --- | --- |
| IN: | 76″ X 80″ X 11" |
| FT: | 6.33' X 6.66' X 0.92' |
| CM: | 193.04 X 203.2 X 27.94 |

| | |
| --- | --- |
| IN: | 60" x 80" x 11" |
| FT: | 5' X 6.67' X 0.92' |
| CM: | 152.4 X 203.2 X 27.94 |

Price
$1199
$999
Bed Size (Inches)
76″ X 80″
60″ X 80″
Ideal Room size (Feet)
13 X 13
10 × 10
Comfortably Fits

Couples who love to stretch out
Couples with a small child
Adults with large bedrooms

Couple with no pets
Singke sleepers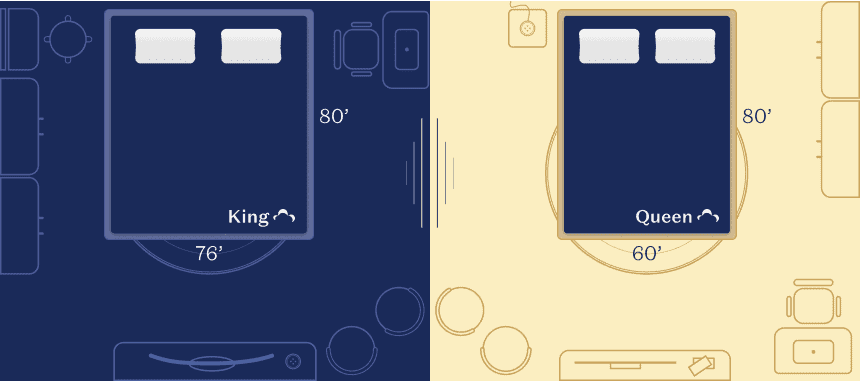 What Is a King Size bed?
A king size mattress at 76 X 80 inches is the perfect choice for a master bedroom. It is wider than a queen by 16 inches allowing you to spread out with your spouse and share the bed with a child or a pet.  
King size beds, invented in the 1940s, maybe the best choice for your primary bedroom or any room that is bigger than 13 by 13 feet.
Pros
Ideal for couples who enjoy personal space or share a bed with kids
Good for spacious bedrooms
Widely available
Cons
Expensive
Too wide for restricted spaces
Hard to move because of weight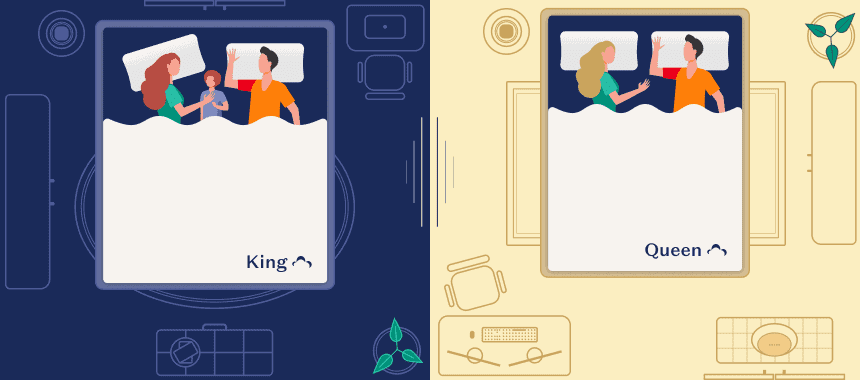 What Is a Queen Size Bed?
A queen size mattress is smaller than a king size mattress but can also be used in your master bedroom or your guest room. It may also be a better choice for narrow rooms as it is narrower (but not longer) than a king size mattress. It fits a couple comfortably and can also be used by single sleepers. 
Pros
Ideal for couples or pet parents
Less expensive than king size
Snug fit for small bedrooms
Lighter than king size mattress
Cons
Can't accommodate children 
Not preferable for tall sleepers
---
Things to Consider Before Deciding Between King Size vs Queen Size Bed.
Apart from your personal preferences, many factors need to be considered picking one bed size. We've compiled a list of factors you should consider while choosing between king vs. queen bed size. 
Room Size
A king-size bed requires a room measuring 13 feet by 13 feet (up to 13 feet by 19 feet), while a queen-size bed requires a room measuring 10 feet by 10 feet (up to 10 by 14 feet). 
Generally, leaving 2 feet on each side of the bed and 5 feet at the bed's base provides you additional space to walk around the room. If you go for a queen-size bed for a big-sized room or master bedroom, you'll have enough space to fit in additional furniture. However, choosing a king size bed for a small room may be the bigger problem as the room may feel cramped. 
Sleeping Partner
Single adults and couples prefer a queen bed as it gives them ample space to sprawl. Most couples would be happy sharing a queen, but those who need more space should think of upgrading to a king size Bed. Couples who share a bed with children or pets should opt for a king to ensure enough space.
Height
A queen and a king size mattress are the same lengths making them both great options for individuals taller than 6 feet 2 inches. Very tall sleepers may look into the California king as it is longer than king or queen bed sizes. 
Generally, there's a difference of around two to a few hundred dollars in price between a queen bed vs. king bed – the king bed being the more expensive one.  
Both these mattresses are readily available. But the additional bedding accessories like bed frames, adjustable base, allied bedding items, etc., for a king bed could be more expensive than a queen. So,  if you're on a tight budget queen bed could be a better option. 
Bed Size
Depending on the brand you choose, a king size mattress needs a bed that is 76 inches by 80 inches. Anything smaller than that will make using the whole bed a problem as the mattress will hang from the sides. 
A queen size mattress needs a bed that is 60.5 wide and 80 inches long. Do check the model and the structure of your bed before you make the final decision.
---
Choosing Between King vs Queen
Both king and queen beds are excellent choices for couples. If your bedroom is small, a queen bed would be a wiser alternative. A king size mattress is meant for spacious bedrooms and families that love crashing on the bed. Your bedroom should allow you to walk around while still having enough space for you to sleep comfortably on. 
---